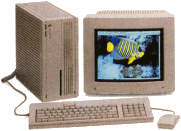 Mac IIcx Firewall - Protect Your Home Network
(monitor & keyboard not included)
SOLD OUT!!!
This Macintosh IIcx CPU runs without a monitor attached. Just plug it in, attach it to your network, power-up and telnet into the world of NetBSD. Basic UNIX instructions included.
My IIcx Firewalls include the following:
NetBSD 1.4.2 base installed.

Two 10base-T Asante ethernet cards

The Firewall is configured for NetBSD as follows:
5MB Mac0S, 16MB Swap, 60 MB Root


Custom compiled kernel based on SPOT with latest security patches.


The NIC cards are pre-configured for 192.168.1.2 and 192.0.0.1 addresses.

IP-NAT configured and running between the two interfaces.
IP Filter running to allow telnet on the 192.168.1.2 interface only.
DHCP server running on 192.168.1.2 interface for your home network - plug and play IP address assignment.
Only telnetd and sshd services are running, everything else is turned off.
Two login accounts exist, root and one user.
Cable Service software: rrlogind (for RoadRunner cable modem users).
PPPoE client for certain DSL providers.
Other software of interest: lynx, scp, ssh, tcsh
Get Yours Today For Only $65.00 Plus Shipping & Handling
Sorry, These Are SOLD OUT!!!
Contact Erik Winkler At ewinkler@erols.com To Purchase.