St Cuthbert's Way Pilgrimage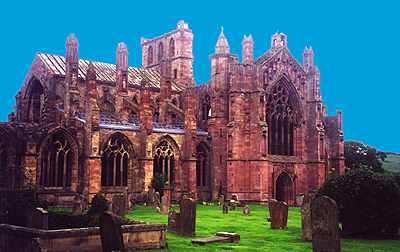 St. Cuthbert was one of the early Celtic saints who brought Christianity to the area of southern Scotland and northern England through which this trail wends its way. He was once abbot of Melrose Abby at the western end of the walk, and was Bishop of Lindisfarne (on Holy Island) at the eastern end, when he died. His duties carried him to many locations in between. After his death, healing and other miracles were attributed to him. Given the deep spiritual roots of this trail, we decided to make a pilgrimage out of it. Each day, we read a Psalm before we started and said a prayer. Each Psalm was selected because it was relevant in some way to the segment of the walk we would be hiking that day. Just before we left, we became aware that a number of people in our church were experiencing serious physical crises. We did not know what we could do for these individuals, but each day we prayed for one of them and dedicated that day's walk to that person. We stayed two nights at the Dunfermline House in Melrose.
Tuesday, August 29, 2000 - Melrose to St. Boswell's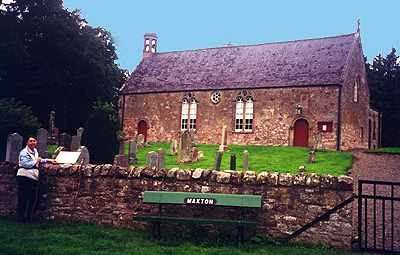 We started the day by reading Psalm 121, and saying a prayer for Bob Visscher. First day's journey is over the Eildon Hills. We walked part of the way with another couple. The woman gave me a good botany lesson on the plants along the way: heather, linkberry, foxglove, gorse and blueberry. Later we discovered blackberries, which were still not ripe, and raspberries and sloe berries. Ed thought the sloe berry was a wild damson plum so he tried one. Big mistake! It's like an unripe persimmon. Pam is pushing the envelope physically getting over the hills; Ed is humming "The hills are alive with the sound of music." Finally, we were walking along a country lane where Ed found a large puffball, which he picked and marveled over. A little farther down the road, we showed it to a woman we met over the fence of her garden. She said that her little boys had been waiting for the puff ball to turn brown so that they could jump on it, but as it was picked now, she would cook it. Fortunately for Ed, the young lads were nowhere in sight. We stayed at The Clachan B&B in St Boswells.
Near St Boswells we passed Maxton Church. The plaque in front of the church is paraphrased in part: "Maxton Kirk, like so many other churches, is dedicated to St Cuthbert. There is reputed to have been a place of worship on this site, in continuous use, for almost 1000 years. 'St Cuthbert's Church of Mackistun' is first recorded in the reign of William the Lion (1165-1214), but there must have been a church here before that date...."
Wednesday, August 30, 2000 - St. Boswell's to Jedburgh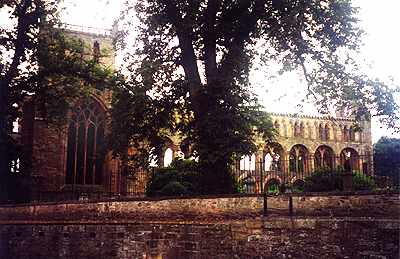 Today we read Psalm 48 and our prayer was for Joyce Visscher. We started the walk by an old drinking fountain with the words "Jesus said whosoever drinketh of this water shall thirst again, but whosoever drinketh of the water that I shall give him will never thirst again." We were trying to remember which hymn has the words "where the saints have trod" since we were trodding in St. Cuthbert's tracks. We finally decided it was "For all the Saints;" and sang it as we trudged along. Thanks to some confusion over the map, we got lost several times this day. Stick with Pam - you will get twice the exercise. Our accommodations were in Froylehurst, a beautiful old house on a hill with a large stained glass window on the landing and a sweeping view of the town, including the Jedburgh Abby. On the way back from dinner, we met the best dog we have seen on our trip, a half border collie, half retriever named Lucy. We had a nice chat with her and her owner.
Thursday, August 31, 2000 - Jedburgh to Morebattle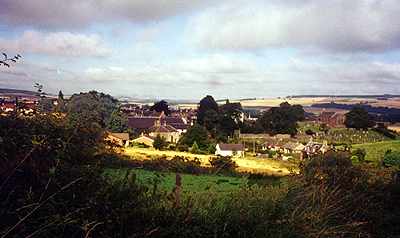 This is day was dedicated to Fridge Lovern. We prayed for him and read Psalm 96, especially verses 11 and 12. We walked through fields that are being harvested. Nature is full of the exuberance of early fall, but we are headed toward the quiet, reflective time after the harvest is gathered in. This day is cooler than the others and we watch a combine being assembled in the field and start to reap the wheat. How thankful everyone is that it is a good yield. We ended our day at Morebattle, a small town with no pub or café. Arrangements had been made with our hosts at the Kaleview B&B to cook for us. The wife is French and the husband is English. We enjoyed talking to them at great length about life in a small Scottish town. Scottish National Power is a good investment financially, but hopeless on the ground. BT is the other way around. Their stories of these big companies coming in to upgrade service to this small village were hilarious. We also learned that people in small, rural towns need their cars for even the most basic shopping and other errands. They are not pleased about the high gasoline taxes. Several other hosts along the way repeated this theme.
Friday, September 1, 2000 - Morebattle to Kirk Yetholm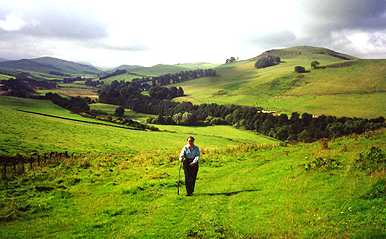 Jennifer Rubel is today's subject of prayer and meditation. We read Psalm 24, which refers to a hill and gates. We climbed a hill today and enter a gate town, Yetholm (Yet = gate). The hill we climbed is Wideopen Hill, the highest point of our walk (1207 feet) and the halfway point. We heard a sonic boom very near us and found a jet fighter flying through the valley below us. There are many stories about low flying jets in this area. Apparently, they are supposed to stay above 200 meters, but the locals believe that they fly lower. One man, who kept rabbits, successfully sued the RAF because he said that his rabbits died and failed to reproduce! There were plenty of rabbits in the wild, and lots of rabbit holes to catch unwary walkers.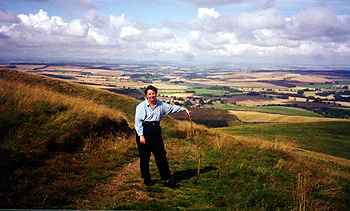 At Kirk Yetholm, we meet a pair of brothers who were also walking the trail. One is from Edinburgh and the other now lives in Canada - both were originally English. They asked if we had been menaced by low flying jets and admitted that they had taken the alternate route that bypassed the climb up Wideopen Hill. They were also headed for Wooler the next day but said they had been unable to get reservations. We hoped they would not get there before us and move into ours. We stayed at the Valleydene B&B in Kirk Yetholm.
Saturday, September 2 - Kirk Yetholm to Wooler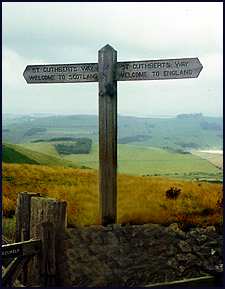 We started the day by reading Psalm 61 and saying a prayer for Mary Coleman . Today we hit a major milestone of our journey: we crossed the border between England and Scotland. In Hethpool, we saw some pretty little Arts and Crafts cottages. I love the way they manage to look comfortable, well crafted and artistic at the same time. Our hostess at the Tilldale House in Wooler was a charming landlady. She told us why there are no rooms available in Wooler - they have been reserved by the production company for the Harry Potter movie that is soon to start filming at Alnwick Castle near by. She will not let production people in her B&B because they act like they own the place and are not very nice. They filmed Elizabeth at Alnwick and she saw what they were like then.
We had dinner at a hotel in town and ran into a whole group that was walking the trail for charity, sort of like a "crop walk" only longer. They had a guide and a support van and planned to do it all in four days. Their plan was to take the van back to Yetholm the next day, and walk to Wooler, which they had not done yet. They would stay in Wooler the next night also, and then walk from there to Lindisfarne. This group was doing the trail in four days instead of seven. We thought we could do it in four days, if we had the encouragement and camaraderie of a group and the services of a guide. We had fun talking to the group and their leader and giving them some pointers on the stretch that they would be walking the next day.
Sunday, September 3 - Wooler to Fenwick
Today, our walk is dedicated to Frank Worden. Our reading was Psalm 131. The day started pretty well, but we got lost on Weetwood Moor where it is soggy and paths are buried in the ferns. We were supposed to walk through a pasture along a fence, which is a negotiated path for St. Cuthbert's Way walkers. Under the circumstances, this did not appear to be a good idea as the field we were supposed to walk through contained some very upset cows. We decided to walk along the other side of the fence. At a wooded plantation (a tree farm), we saw public footpath markings pointing in both directions, but no St Cuthbert's marker. We followed the arrow pointing straight ahead but we picked wrong. After hitting a road that was definitely not on our route we circumnavigated the large woods and a large chunk of the moor to find the path again. At long last we, we arrived at St. Cuthbert's cave. LOOK! YOU CAN SEE A PILGRIM ARRIVING AT THE CAVE NOW. The monks hid there when they were trying to escape from a Viking raid on Holy Island. They took the body of St Cuthbert and some of the Lindisfarne gospels with them. Thus they preserved the treasures of their faith at this crisis in their history. It is amazing to think that over a thousand years ago people made decisions that influenced how our history unfolded and opened to us the paths that we follow today - both physically and spiritually.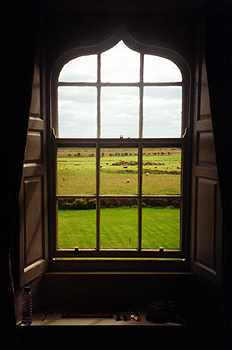 We stayed at the High Steads B&B in Lowick, which is not on the trail, because there weren't any accommodations left in Fenwick. Since Lowick is only three or four miles away, our host from High Steads agreed to meet us in a parking area half-a-mile from Cuddy's Cave. Then took us back to the trail the next morning. This B&B is a beautiful old renovated farmhouse. The National Trust is very strict on how they can remodel the old buildings. They must leave the exterior looking the same, but they can do just about anything they want inside. Thus, even though many of the buildings in the Scottish Borders and Northumberland look (and are) very old, they are very comfortable, with modern facilities inside. The picture at the right is a view from our bedroom window at High Steads. The picture below was taken out of another window in the house. The harvesters had taken a break while mama and two daughters brought them their lunch. Nearly all of the farm labor is contracted by the land owners.
Monday, September 4 - Fenwick to Holy Island (Lindisfarne)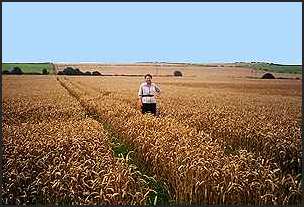 Although today was originally not dedicated to anyone, Glenna Page's name had come up several times before we started, so we prayed for her on this day. We read Psalm 95: "The sea is his because he made it." We will be crossing to Lindisfarne, one of those places, which is an island at high tide and connected to the mainland at low tide. Our hosts recommend that we take the causeway route across, even though it is a mile longer, because the Pilgrim's route across the sands is pretty soggy, even at low tide. On the way to the causeway, we passed huge concrete blocks that were built to retard any amphibious landing during World War II. A few months before we left, we had seen a PBS (Public Broadcasting) show on the Battle of Britain and read a book on how Churchill convinced the other members of the government to stand against Hitler and not seek a reconciliation. Once again, the British held on to the values of civilisation, as we know it (if not as how we spell it). See Pam walkin' through tha rye--er barley. They grow mostly barley and some wheat. The barley is used by the breweries and distilleries for malt so they can make that elixer of life.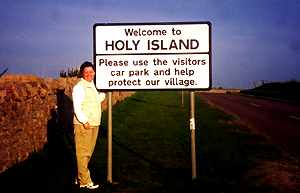 We made it across the causeway, then wished that we had taken the sand. The causeway is a mile longer and we played dodge-cars going across. There was not always a good place to dodge out of the way. We made it, and settled into The Bungalow B&B. After exploring the town, Pam had a nap and Ed went out to greet the charity walkers, whom we had met in Wooler, as they crossed the sands. We were going to spend three nights in Lindisfarne, but after the first day we decided to spend the third night in Berwick, which is an historic old port town about 15 miles north. See the link at the bottom of this page to read about Berwick.
We stopped by the chapel at the local United Reformed Church (English Presbyterians) to give thanks for our journey. Then we called Rev. Bob Curry from the local call box to let him know we had made it.
Tuesday, September 5, 2000 - Around Holy Island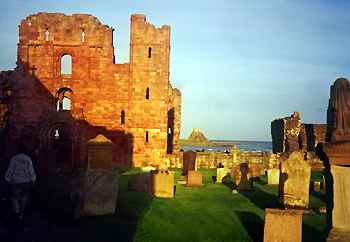 Since we had been hiking and meditating, all week, we kept it up by devoting this day to Patricia Katz. We prayed for her and read the 23rd Psalm. We visited the beautiful priory at Lindisfarne, built in the time of the Normans, hundreds of years after the first settlement had fled the Vikings. The museum presented an interesting history of Celtic Christianity and its subsequent compromise with Roman "rituals." Still, the Celtic form, which was more ascetic and closer to nature, survived in some respects because it suited the spiritual needs of this beautiful but rugged area. Beyond the priory, in the distance, you can see the Lindisfarne Castle.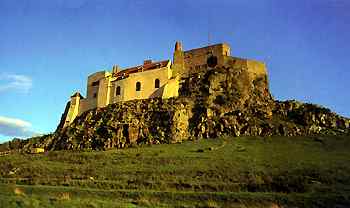 Then we went up to the castle, built by Henry VIII, to support him in his struggles with the Scots, who were independent of England at that time. The castle fell into disrepair after the 1700s, but was bought in 1902 by Edward Hudson, editor of Country Life magazine. He restored it with the aid of Edward Lutyens to be a holiday home on the island. It is quite beautiful, and one can still imagine the Tudor era troops here scanning land and sea for hostile invaders. Although now part of the National Trust this must have been a great place to live; it is very homey inside.
The light here is very interesting. Since it is so much further north than our home in Virginia the sun is not so harsh. However, the sea surrounding the island reflected the light to give a diffused brightness that we could never quite capture on film. It was different, other-worldly, holy. We set off on a hike around the island and found an elongated pyramid, bright white and very solidly built, that we decided was an aid to navigation. It was high on a bluff overlooking the sea where it could be seen for miles. In the picture at the right, taken from the top of the castle, the white dot on the horizon is the pyramid.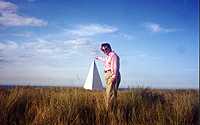 As we walked toward it, it seemed always to be not so far away, but always the same distance. At first we thought it was about half-a-mile away. In fact, it was about two miles away. Its perfect geometry gave the viewer no clue about its relative size, so it seemed to get bigger without getting closer. In the picture to the right, Pam is standing on a ridge still about a mile from the pyramid. Finally, we arrived at the pyramid in the late afternoon and the shadow it cast was almost as interesting as it was.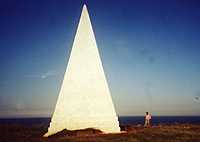 We could see where someone had gathered stones and built a spiral on the ground. Mazes in the medieval and some modern religious contexts are used as an aid to meditation. (There is a famous maze at the cathedral at Chartes and several smaller mazes at churches in the Washington area.) In this spirit, Pam walked the spiral as a meditation for her sister. By the time we walked back to town, we were too tired to eat. On our day to rest up after the walk we had walked as far as on any of our days on the trail. When we returned to the B&B we had tea and some great Scotish granola bars and went to bed.
---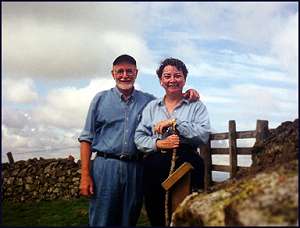 I think that when we are reflecting on our lives in the future, we will look back on this trip as one of life's highest points. It included many aspects of our lives that we value. The first week with our families was a common experience for a group of people who have gone different ways, but still have much love for one another. The days we spent walking St Cuthbert's Way were spiritually and physically challenging, but were also a time of joy and sharing. We felt we were part of a web of relationships that criss-crossed time and space, reaching back in time to early Celtic Christians and our Scottish ancestors, and in space to our family and friends in the United States. We also enjoyed the time we shared with our B&B hosts, fellow walkers and others that we met along the way. Each of these brief encounters added something to the richness and pleasure of the trip. On life's varied journey, this was a visit to a blessed land, where we found something more precious than water to sustain us. Pam (Russell) McClelland
We appreciate the efforts of Doug Stewart at Make Tracks for arranging a flawless vacation. Next time we'll try the West Highland Way.
Back to the rest of the UK trip.
Please send comments and questions to: