Cathi K. C. Mapes
---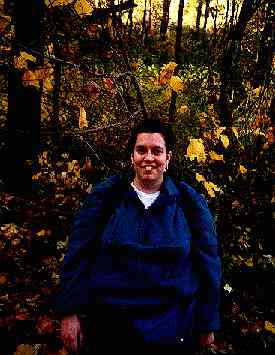 Int'l Students Assc' trip: Old Ragg Mountain, VA October, '98
---
This page is dedicated to my wife of almost nine years, Cathi, who passed away April 2nd of 2000 after a long and valiant fight with liver disease. Cathi was a talented and dedicated teacher of English first as an under graduate tutor at Virginia Weslyan, then as a graduate student assistant at UMCP, an adjunct professor at UMUC, a lecturer at UMBC, and a professor at AACC. While she loved teaching literature, especially Shakespeare, Chaucer, and the Bible (its influence on western literature), many of her favorite students were found in the English as a second language classes she taught.
Here are some of the readings from Cathi's interment and memorial service:



By Jaquelyn Lyman:

  We come together today to return
  the physical remains of Cathi
  Kaye Mapes to the comfort and
  security of Mother Earth.

  We will miss her physical
  presence - her smile, her
  impulsive generosity and daily
  small kindnesses, and her innate
  sensitivity to policemen with
  radar guns.

  We will miss watching the
  nimble way her fingers worked
  a piece of fabric, turned the
  pages of a book or one of her
  students' papers, or adjusted
  the tea shirt creeping up on her
  energetic daughter.

  Will will miss the way she cocked
  her head as she asked a
  question that we weren't
  expecting but which made us
  see whatever we were talking
  about in a different light.

  But as we return the physical
  Cathi to the earth she revered,
  we will honor her by remembering
  what she believed:

  - That the universe is an
    intgral whole

  - that each of us in ans indespensable
    part of the whole

  - that we do not ever leave it;
    we only pass from one state
    of being to another.

  Thus, Cathi cannot be parted
  from us, nor we from her.

  She will be
  - in the warmth of the sun on
    the back of a babys head,
  - in the call of a loon on a
    northern lake,
  - in the snow melting from the
    heart of the crocus.

  She will bend the willow in a
    dark storm and bring
    forth the snow of
    early cherries.

  We commit her ashes to the
  care of the Mother Earth.

  We honor the person she was
    and will be.

  Blessed Be.



Author unknown:

  If I should die, (and die I must)
  Please let it be in springtime
  When I and life up-budding
       Shall be one.
  And green and lovely things
       Shall blend with all I was
       And all I hope to be.
  The chemistry of miracle within the
       heart of love and life abundant
       shall be mine
  And I shall pluck the stardust
  And shall know the mystery within the blade
  And sing the wind's song
  In the softness of all the flowered glade...



A Native American prayer:

  Do not stand at my grave and weep
  - I am not there, I do not sleep.
  I am a thousand winds that blow.
  I am the diamond glint on snow.
  I am the sunlight on ripening grain.
  I am the gentle autumn rain.
  When you wake in the morning hush,
  I am the swift, uplifting rush,
  of quiet birds in circling flight.
  I am the soft starlight at night.
  Do not stand at my grave and weep.
  I am not there.  I do not sleep.



David R. Mapes:

  Cathi,                                                                          4/9/2000

       Teacher, Mother, Wife, Friend, Lover...

  When I first met Cathi she was on her why to
  teach a class at UM College Park, the first
  of many times I would come between Cathi and
  her career.  To say I made an impression upon
  her would be a slight  miss-statement, the
  impression was on her rear bumper.

  First impressions can be deceiving, but I'll
  always remember that first day of our
  relationship when I felt both the full fire
  of Cathi's temper, and the full depth of her
  kindness and empathy.

  As I came to know Cathi and her family, I
  came to love and  respect them, not just out
  of my feelings for Cathi, but for the quiet,
  caring, purposeful approach they all took to
  life's challenges and opportunities.

  Cathi was always a teacher first, and anything
  else second.  She knew that hers was one of
  the most important jobs.  It may be under
  appreciated in our culture, but teaching is
  the primary way any culture perpetuates and
  improves its-self outside of the family unit.
  And she knew that teaching people to read,
  appreciate, and analyze literature, to think
  and write clearly,  and to understand the
  discipline of academic research and honesty
  was the greatest gift she could give, the
  finest service she could render to this world.

  If it was hard to earn an "A" from Cathi, it
  was harder to earn a "D" or an "F".  If a
  student would do the reading, do the writing,
  come to class and pay attention, and read and
  try to implement Cathi's comments on their
  papers they would receive a fair grade that
  reflected the caliber of their work.  They
  would also emerge, whether "A", "B", or "C"
  students, as better writers and thinkers than
  they had been before.  That's Cathi's true
  legacy to us, more than the love she gave to
  her friends and family, more than the life she
  gave to Marianne, the nearly 3,000 students
  she had over 17 years of tutoring and teaching
  who can read with a greater depth of
  understanding, express themselves with more
  force and clarity, look for and find the
  answers to their questions, and have a more
  positive impact as a result.

  Blessed Be.


---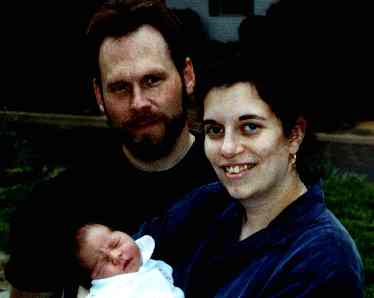 May/June, '95
---