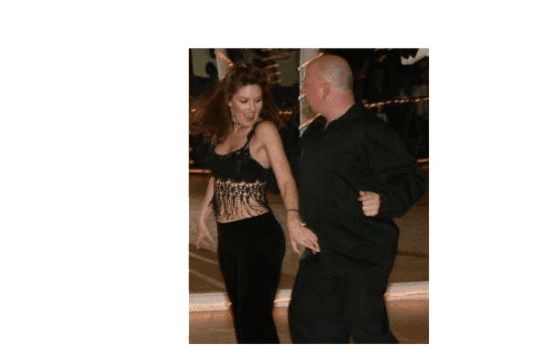 Photos courtesy of Sam Habet
Shawn Martin has been teaching group and private lessons and judging events in west coast swing since 2001. Shawn has an extensive background in ballet, tap, and jazz. She danced competitively in both strictly swing and classic categories in 2001 and 2002 with Ken Roesel. She and her current partner, Frank Glowczewskie, most recently took 2nd place in the Advanced Sophisticated Swing Division at Swing Fling in Alexandria, Virginia in August of 2004 and 4th place in the Showcase Division at the Mid Atlantic Dance Jam in New Carrollton, Maryland in March 2004. In 2003 she and Frank took first 1st place in Open Classic West Coast Swing at the Virginia State Open in Tyson's Corner, Virginia in October 2003.
Shawn currently teaches a Basic Beginner West Coast Swing Group Lesson from 7:15-7:45 p.m. and an Advanced Beginner West Coast Swing group lesson from 7:45-8:15 on Mondays for Joyce Szili at the Virginia Ballroom located in Merrifield, Virginia.
Please see http://www.justjustle.com for directions and more information.
Shawn also teaches West Coast Swing Level I from 7:30-8:15 p.m. and West Coast Swing Level II from 8:15-9 p.m. on Wednesdays at Elan Dancesport Center in Merrifield, Virginia. From 9-11:30 Ken Roesel hosts and DJs a West Coast Swing dance party including some hustle, country, and Latin music. Please see http://www.dancebuddies.com/ for more information.
Shawn also teaches Private or Small Group Lessons in the evenings or on the weekends in both Virginia and Maryland.
Please contact Shawn at ShawnMartin@starpower.net if you have any questions about group or private west coast swing lessons.