Western Maryland Family History Map
Garrett County is the westernmost county of Maryland. It is roughly the shape of a right triangle. It is bordered on the north by Pennsylvania and on the west by West Virginia. The long side of the triangle, which runs northeast to southwest, consists of a straight portion which separates Garrett County from Allegany County, and the Potomac River which forms a border with West Virginia.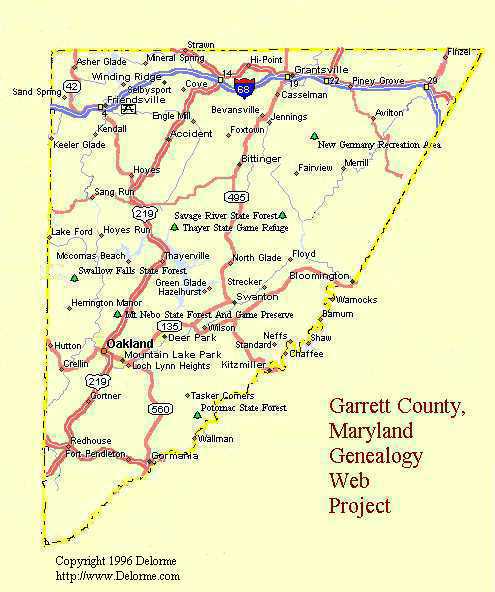 The straight portion intersects the Potomac River at the mouth of Savage River at Bloomington. The pioneers Joseph Warnick, George Fazenbaker, Daniel Reckner, and several others were living on Big Savage Mountain a few miles north of present-day Bloomington when Deakins conducted his survey in 1787.
Between Bloomington and the homeplaces of these pioneers is some of the most rugged country in Maryland; no roads lead north from Bloomington. To travel from Bloomington to the lands occupied by the pioneer settlers, one must travel east to Westernport, Allegany County, Maryland, and then travel northwest where the grade up Big Savage Mountain is less severe.
Upstream along the Potomac from Bloomington, the map notes the abandoned community of "Warnocks." This was the site of a coal mining community founded by the descendants of John Warnick, son of the pioneer Joseph Warnick. John, who was a prominent citizen of this vicinity in the early 1800s, lived here on lands bordering the Potomac.
Another fine map of Garrett County, dated 1895, shows the prominent topographical features. It is a data hog (1.5 meg), so calling it up takes several minutes if accessed via a slow modem.
For information about Garrett County history, visit the Garrett County, MD, Genealogical Web Site.
Walt Warnick, Laytonsville, MD
LE FastCounter