Home page of the
40th Combat Engineer National Association based on the
WWII 40th Engineer (Combat) Regiment, made up of 3 battalions, the 2829th, 2830th and 2831st, later re-designated the 495th, 496th, and 497th Engineer Battalions. Commanding Officer Col. O. B. Beasley
In January 1943 the 40th Engineer (C) Regiment was organized as a three battalion regiment at Camp Pickett, VA. The 40th was the amphibious regiment attached to the 45th Thunderbird Division for the Sicily invasion. Credited with 567 days in combat, the 40th served in North Africa, Sicily, Italy, France, Germany and Austria. Seven Campaign Stars were earned: Sicily with invasion arrowhead, Naples-Fogia, Rome-Arno, Southern France with invasion arrow head, Ardennes-Alsace (except 3rd Bn.), Rhineland, and Central Europe. The third battalion was included in the Presidential Unit Citation of the 3rd Rockof the Marne Division to which it was attached during the Colemar Pocket campaign with the French First Army. The 3rd Bn., now the 497th Engineer Battalion, is eligible to receive the colors of theFrench Croix de Guere when it is next activated.
The 40th Combat Engineer National Association has held reunions every year since 1946.
NEXT REUNION: Baton Rouge, Louisiana,
August 29 - September 1, 2001
Raddison Hotel and Conference Center
4728 Constitution Av., Baton Rouge, LA 70808, 1-225-925-2244 www.radissonbr.com
The host is Capt. (later BG) Russell LeBlanc, assisted by his daughter, Mary Beth Manriquez,
3644 Cypress Park Dr., Zachary, LA 70791, 1-225-654-2481, Mary Beth Manriquez
The 40th Combat Engineer National Association Contacts:
Commander, John Lehr
Vice-commander, Walter E. Witt,
Secretary and Keeper of the Roster, Waldon Swenson,
Treasurer, Gregory F. Klos,
Editor 40th Engineer News, Donald E. Jackson
Historian and webmaster (site updated 7/14/01). Click here to provde suggestions, historical information or questions on service with the 40th, or an anattached unit. Alexander French, Historian & Webmaster

LINKS
History of the 45th Infantry Division
45th Division Museum
Military.com has useful links and info
Army Engineer Association, OCS Alumni
Vet Reunions
Medal Of Honor 3rd ID
3rd Division Many Links
Corps of Engineers
Army Engineer History
Landing Craft History
French certificate honoring Americans, under HOT Issues click Honoring Americans- -
1st Armored Div, 40th Engr. BATTALION is in 1st Armored


Unique hits since 6/17/01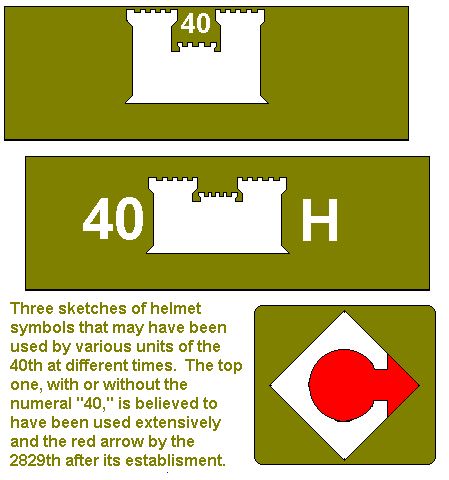 The center symbol with the "40" to the left of the castle with lower end towers, and the company letter to the right, was in use for the longest period.